The Story: Trinka meets Alfredo the Emergency Flare on her father's ship, where they (along with Spigot & Spout) are part of the ship's disaster preparedness equipment. Given that they usually cause more trouble than they save people from, the sailors are more than happy to make supervising the emergency kit part of Trinka's responsibilities.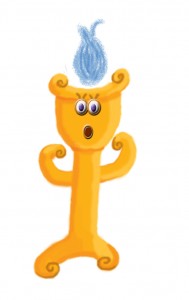 Special abilities: Alfredo is particularly good at catching things on fire (quite a talent for such a wet ship). His nervous disposition has earned him the ignominious nickname "Butwhat," since he is always asking "But what if something happens?"
Inspiration: Old-fashioned candlestick holders.